Posted by

Preferred Insurance Agency

on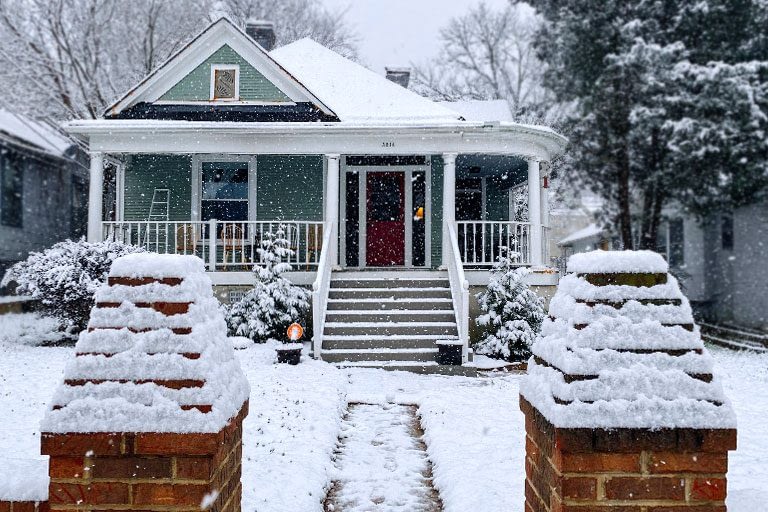 Winter cold temperatures and harsh storms can lead to power outages and burst pipes. You may be grateful for home insurance, where you can make claims when these accidents happen. However, did you know that its claims can raise your overall next year's premiums?
Being aware of the top five winter homeowners insurance claims can help prevent such damage and consequent repair bills.
The most common winter home insurance claims.
These are the Most Common Winter Home Insurance Claims:
Frozen Pipes
The frozen water in a pipe can make the pipe burst, thus resulting in extensive water damage and mold. Most home insurance policies cover burst pipe damage. Your dwelling coverage covers home repair costs, and personal property coverage pays for damaged belongings.
Snow and Ice Damage
During winter, various forms of snow and ice damage to your home can occur. For example, ice accumulates on the roof after a thaw and freeze cycle where the weight causes structural roof damage. Ice dams can also cause heavy ice buildup and trigger wall and ceiling mold problems. Ice dams occur when melted snow runs down the roof and freezes before draining off the edge.
House Fires
Yes, house fires are pretty common in winter due to cooking fires around Thanksgiving, Christmas Day, and Christmas Eve, and candle fires on Christmas day. Home heating and lighting can trigger house fires due to space heaters and holiday lights.
Wind and Hail Damage
There's no doubt that your house will protect you from wind and hail. However, did you ever realize how much your home suffers from it? Always check your home and roof for damages immediately after a hailstorm so that you can promptly file a claim. It's better than noticing the damage only after some time and ending up with your claim denied.
Personal Injury Liability
Icy driveways or stairs and falling debris or icicles are dangerous for you and visitors. You end up liable for personal injuries incurred on your property.
Preventive Measures Worth Adopting:
It doesn't matter what the cause for damage is. Adopting preventive actions can help avoid a disaster and winter home insurance claims.
Tips to Avoid Frozen and Burst Pipes:
Keep water running by dripping both hot and cold water lines to prevent freezing and relieve pressure in pipes.
Cover pipes exposed to chill temperatures with sleeves or newspapers.
Shut off the water if a pipe freezes and thaw the frozen water with a heated pad or hairdryer.
Drain and disconnect garden hoses and sprinkler supply lines before winter sets in.
Install leak detection technology or a water shutoff device. It alerts you when a leak appears so that you can shut off the water or make appropriate repairs.
Maintain a consistent indoor temperature below 60 degrees if you aren't at home for an extended period.
Leave under-sink cabinet doors open to facilitate warm air circulation around the pipes.
Tips to Avoid Ice Dams on the Roof:
Keep your attic properly insulated.
Use heat cables and rubberized shingles to prevent ice dams from forming
Keep all gutters clear of debris to facilitate the proper draining of melted snow
Increase attic ventilation
Tips to Avoid Fallen Tree Branches:
Regularly trim trees
Remove dead trees or tree limbs
Tips to Prevent House Fires:
Use flashlights instead of candles during power outages
Turn off all electric appliances after continual use
Water Christmas trees so that they don't dry and become fire hazards
Do not use the stove to heat your home
Install a screen in front of the fireplace
Professionally cleaning the fireplace annually
Keep portable heating devices at least three feet from anything flammable
Regularly test smoke alarms
No unattended burning candles and food on the stovetop
Tips to Prevent Slipping and Falling on the Ground:
Keep sidewalks, porches, and outdoor steps clear of snow and ice
Know the bylaws for inclement weather
Melt the ice using a ground treatment like salt or warm water or a natural deicer of rubber alcohol, hot water, and dish soap.
Tips to Help You File an Accurate Home Insurance Claim:
Take pictures immediately for accurate proof of the severity of damage in a claim.
Make temporary repairs to prevent further damage to your home
Save all receipts of services and supplies to submit with your claim
Know your insurance limits and exclusions
What Does Home Insurance Cover in Winter?
Home insurance policies cover most wind, rain, snow, or ice damages. It also covers additional living expenses if your house becomes uninhabitable due to the damages and you need to stay somewhere.
Standard Home Insurance Covers Damage From:
Falling snow
Fallen tree limbs
Freezing rain or snow
Wind to your house, roof, or other insured structures
Weight of accumulated snow on your house
Ice and frozen or burst pipes
What Doesn't Home Insurance Cover in Winter?
The insurer's declarations page lists what is covered, while the policy's exclusions section lists out what isn't covered. However, it's always better to ask your insurance agent or company what your home insurance policy doesn't cover.
For example, most policies do not cover:
Flood damage from melting snow or heavy rain
Cosmetic damages caused by wind and hail
Damages due to negligence or poor property maintenance
Also, Your claim may also be denied if you weren't living at the property when the damage occurred.
Check your personal property limits as some items like antiques and jewelry have lower limits than other belongings. You may require additional coverage if you have lots of valuables.
Preferred Insurance Agency of La Crosse is the La Crosse area's #1 insurance company. We have the unique advantage of being able to run your home insurance quote through multiple insurance providers so we can get you the best price for the same home insurance coverage. Visit our La Crosse home insurance page for a homeowners insurance quote. For directions click here.
Related Home Insurance Articles:
You Might Also Like:
Does Wisconsin Homeowners Insurance Cover Outdoor Structures?
Filed Under: Home Insurance, Homeowners Insurance
|
Tagged With: La Crosse